Take the first step today!
Book a free assessment!
Take your first step to a better you!
Tailored Strength & Fitness
Through our evidence-based approach, we can specifically tailor a formal strength and fitness training program keeping track on your progress in achieving optimal muscular strength improvements.
All of our staff are either Physiotherapists or Exercise Physiologist, so not only is this program designed for strength gains, but it also provides prevention and maintenance in reducing injury to injury prone areas, such as the lower back, hips, knees and shoulders.
Take the first step
Benefits of Tailored Strength & Fitness
Building muscular strength and fitness, whilst reducing risk of injuries
Small class sizes (no more than 4 people), so we can provide individual alterations, education and teaching of formal exercise technique
Improving fitness with support and care in a measurable way
Physical benefits you can feel, a body that is stronger and able to cope better with life and do more.
Whether you would like to be more active with your children or lead a more adventurous lifestyle, MD Health Pilates is the first step to a healthier you.
Take the first step
What is each session like?
During each carefully supervised session, our Physiotherapist or Exercise Physiologist will take you through specific exercises according to your treatment plan. Each session will be formally calculated and tracked based on change in volume and intensities, which will be tailored accordingly to you to ensure your fitness goals are achieved.
Sessions are conducted as a short as 30 minutes – so you'll be working a sweat!
The first step is now!
Book a free assessment!
Try our Personalised Pilates Program
How do I begin?
Getting started with MD Pilates is easy.
Just follow these steps and you'll be well on your way to a healthier you!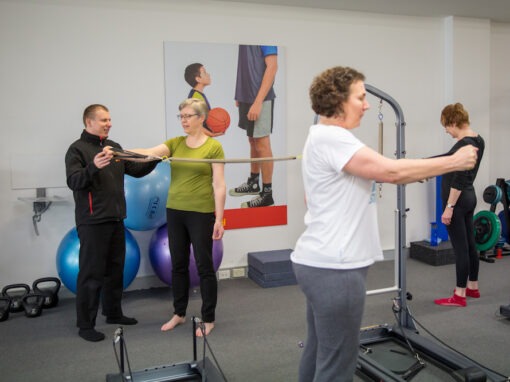 1. book an assessment
Our Physiotherapists and Exercise Physiologists will talk to you about your short-term and long-term goals.
These can range from being more active with young children and losing weight to regaining movement after an injury, pain or surgery.
2. strength and mobility tests
Over the course of an hour we will test all your major joints to discover where injury, pain, lack of strength or core stability are limiting your movement.
3. We'll create a program
After your full body assessment, our Physiotherapist/Exercise Physiologist will create a personalised program that's right for you.
4. Start your journey!
There are no lock-in contracts. Our personalised program is designed based on the fact that our body needs at least two sessions a week to make the necessary change to improve for long term.
Take the first step to a healthier you!
Contact us today to book a free, 1-hour session with an experienced MD Health physiotherapist or exercise physiologist.
This helps us identify your current strengths and weaknesses, and to get an understanding of what your goals for the program are.
Book a Free, 1 Hour Session